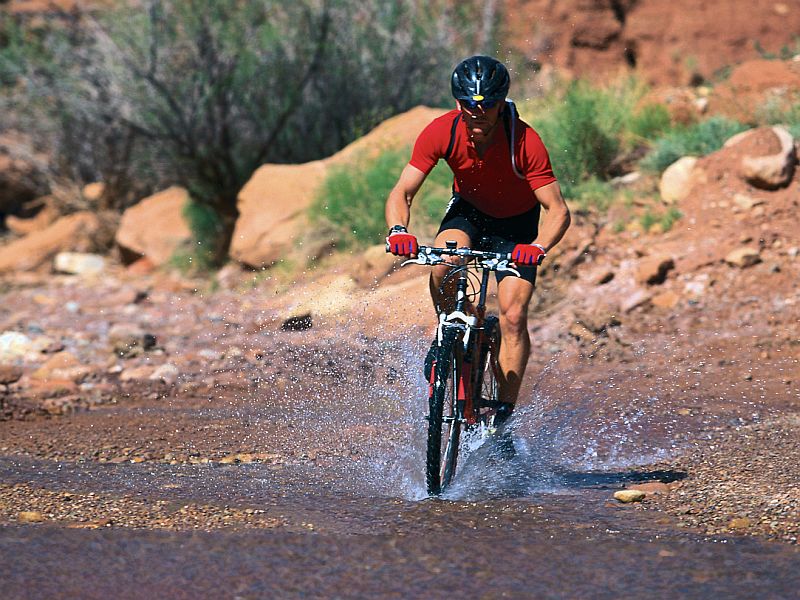 WEDNESDAY, March 9, 2016 (HealthDay News) — Long-distance triathletes who drink too much water during competition may end up with dangerously low blood sodium levels, new research warns.
Researchers in Germany who tested nearly 1,100 competitors in the annual Ironman European Championships found more than 10 percent had developed this condition — called hyponatremia.
In its most severe form, hyponatremia can be life-threatening, experts say.
"Hyponatremia among athletes is not a new issue," said study co-author Dr. Stefan Braunecker, of the department of anesthesiology and intensive care medicine at University Hospital of Cologne. But the 2015 death of an athlete who developed hyponatremia during an Ironman competition underscores the "still urgent importance of the topic," he added.
The condition occurs in a "considerable percentage" of long-distance triathletes, Braunecker and his colleagues said in the March 10 issue of the New England Journal of Medicine.
A dramatic dilution of sodium (salt) causes an athlete's internal water regulation to go out of whack. Cellular swelling ensues, often accompanied by nausea, headache, a drop in blood pressure and energy, weakness, and even seizures, according to the National Kidney Foundation.
For this study, the authors tracked hyponatremia cases among nearly 1,100 triathletes who participated in the annual Ironman European Championships between 2005 and 2013. More than 900 were men.
The competition includes a 2.4-mile swim, 112-mile bike ride and a 26.2-mile run.
Racers took about 10 to 15 hours, on average, to finish, and blood samples were collected within 20 minutes of completion.
The investigators found that 115 athletes had developed hyponatremia. Seventeen cases were deemed serious and three critical. These findings led the authors to conclude that hyponatremia is a significant and serious health concern among triathletes.
The highest risk for hyponatremia was among female athletes and/or those who took comparatively longer to finish the competition, the research team found.
Some marathon runners also develop hyponatremia, Braunecker said. A previous study found that 12 to 13 percent of marathon participants had the condition, the authors noted.
"Marathon runners do a 'short' run of just 2.5 to 3 hours, and do not plan their nutrition as much as triathletes do," explained Braunecker.
The emphasis triathletes place on making sure their caloric intake will sustain them through the race appears to exert "a regulating influence" on sodium levels during competition, he said.
But both marathoners and Ironman participants struggle with extreme fatigue, alongside a temporary inability to reliably gauge true thirst. The result: "Amateur athletes tend to overestimate their water deficit and over-drink," Braunecker said.
He suggested that race organizers offer athletes pre-competition information programs on the subject. Also, on-site emergency physicians should be prepared to screen for the condition and treat it, he said.
Athletes, meanwhile, should rigorously plan out their nutritional needs in advance, making sure to consume beverages that contain increased sodium levels, he suggested. Sodium tablets and measuring for water loss while training can also be helpful, he added.
But Dr. Lewis Maharam, chairman of the board of governors for the International Marathon Medical Directors Association, said that as safety precautions go, meal-planning comes in a distant second to simply listening to your own body.
"The big problem with all the marathons and Ironman competitions is that sponsors of fluids and electrolyte drinks stage fluid stops very close together, almost every mile," Maharam explained.
"Inexperienced runners or Ironman athletes see these tables and think, 'Oh . . . I should drink,'" he said. "But often that's not the case. In fact, it's been shown that if an athlete actually stops and drinks at all these stops, they will for sure become hyponatremic by the end of the race."
His advice? "We tell our athletes to drink for thirst," said Maharam. "It's the very best way to reduce risk."
The notion that by the time you're thirsty you're already dehydrated is an old wives' tale, he added. "Thirst is the absolute best way to determine how much to drink."
More information
There's more on hyponatremia at the National Kidney Foundation.
SOURCES: Stefan Braunecker, M.D., department of anesthesiology and intensive care medicine, University Hospital, University of Cologne, Cologne, Germany; Lewis Maharam, M.D., sports medicine specialist, and past president, New York chapter, American College of Sports Medicine, New York City, and chairman of board of governors, International Marathon Medical Directors Association; March 10, 2016, New England Journal of Medicine