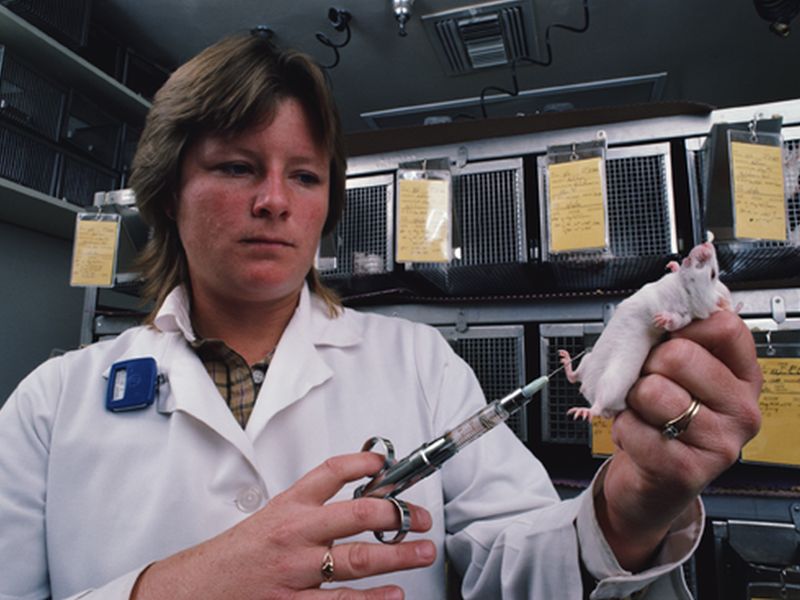 WEDNESDAY, Jan. 27, 2016 (HealthDay News) — Using a two-pronged approach, researchers report they were able to restore normal blood sugar levels for six months in mice with induced diabetes.
But, while the research is promising, it's too soon for people with type 1 diabetes to start planning a life free of needles and injections just yet, experts said.
The first part of the treatment was using insulin-producing pancreas cells generated from human stem cells employing a technique recently developed at Harvard. But the latest breakthrough came from MIT researchers, who developed a way to encapsulate the cells — called islet cells — before they were implanted in the mice, to protect them from the immune system.
That's key for two reasons. One is that when you introduce foreign cells into the body, the immune system recognizes them as foreign and destroys them. This is why people who have organ transplants need to take immune-suppressing medications, which can cause serious side effects.
The second reason is that type 1 diabetes develops when the body's immune system mistakenly attacks healthy islet cells and destroys them — known as an autoimmune attack. When people have had islet cell transplant, the new cells eventually die off, and researchers suspect one reason why is that the autoimmune attack doesn't stop.
However, the encapsulation hides the islet cells, essentially making them invisible to the immune system, the researchers explained.
"They're stealth islets," said Julia Greenstein, vice president of discovery research for JDRF, a type 1 diabetes research foundation that provided funding for the study along with the Helmsley Charitable Trust and the U.S. National Institutes of Health.
"We're really excited about this. It's been a long and big effort for us to try to drive novel biomaterials," she added.
There are still a number of steps before a human trial could be done, such as scaling up the capsules for larger animals, and seeing whether or not the encapsulated islet cells can achieve blood sugar control in non-human primates, Greenstein said.
But, if all goes well, both Greenstein and the senior researcher on the project, Daniel Anderson, an associate professor of chemical engineering at the Massachusetts Institute of Technology in Cambridge, Mass., predict that phase 1 clinical trials in people might just be a few years away.
Anderson and his colleagues initially isolated a molecule from seaweed, or brown algae. "We then made chemical modifications that would be able to do different things, and then we had to see which might actually work," Anderson said.
The scientists created approximately 800 seaweed derivatives, and one seemed quite promising as a material for encapsulation. The researchers encapsulated human stem cells, and implanted them in mice with induced type 1 diabetes. The encapsulated cells were left in for 174 days, and then removed.
During that time, the transplanted islet cells produced insulin and the mice were able to achieve normal blood sugar levels without insulin injections. The mice didn't show any signs of rejection, according to Anderson. And, when the time came, the encapsulated cells were easy to remove.
This study was only scheduled to last six months, but Anderson said the researchers "hope these devices could last for years."
The findings were published online Jan. 25 in Nature Medicine. The researchers published a second study, this one in the Jan. 25 online issue of Nature Biotechnology, that looked at how the encapsulation device without islet cells inside would perform in non-human primates.
Encouragingly, the researchers found that scar tissue didn't form around the encapsulation devices in either study.
"This is a complicated and challenging problem, but we're excited by the progress so far, though obviously, we have more work to do," Anderson said.
Dr. Joel Zonszein is director of the Clinical Diabetes Program at Montefiore Medical Center in New York City. He said, "This is a very smart idea to try engineering islet cell isolation." And, "in fact, the idea has been around for about 40 years," he added.
"There is still a long way to go, but it's a bright idea and it's well done," Zonszein said.
Greenstein said it's possible that encapsulation techniques may end up coming to market in steps.
"Insulin independence is the ultimate goal, but we may see products based on encapsulation technology that may not go for the gold initially," she said.
For example, rather than microencapsulation with generated stem cells, as was shown in the current research, a larger device that houses islet cells and is easier to retrieve might come to market sooner.
More information
Learn more about type 1 diabetes from the American Diabetes Association.
SOURCES: Julia Greenstein, Ph.D., vice president, discovery research, JDRF; Joel Zonszein, M.D., director, Clinical Diabetes Center, Montefiore Medical Center, New York City; Daniel Anderson, Samuel A. Goldblith Associate Professor, chemical engineering, Massachusetts Institute of Technology, Cambridge, Mass.; Jan. 25, 2016, Nature Medicine, online; Jan. 25, 2016, Nature Biotechnology, online