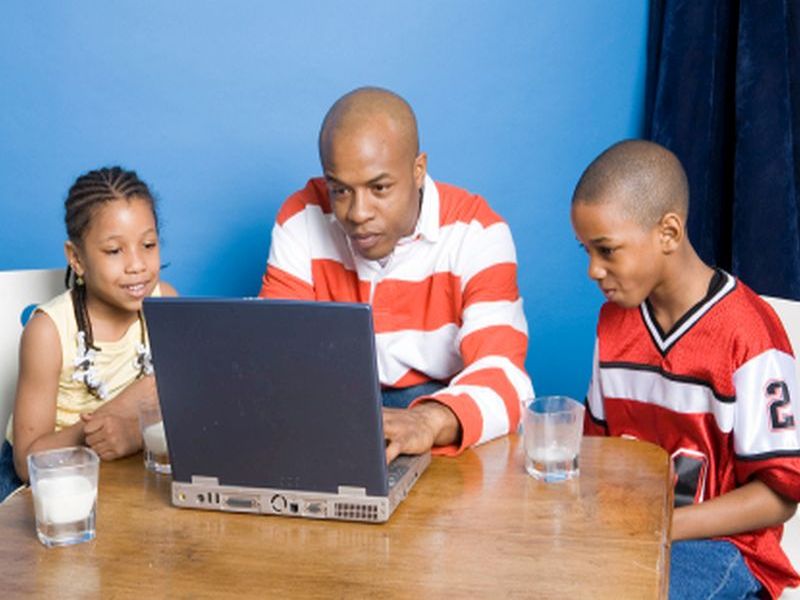 FRIDAY, Oct. 21, 2016 (HealthDay News) — Parents often keep a close eye on their kids' use of social media, but they also need to be mindful of their own posts, researchers warn in a new review.
These days, it's almost expected that parents will regularly post pictures of their kids online to give friends and family updates on what they're doing. But there can be negative — or even scary — consequences, the researchers said.
"This is all so new. Our parents didn't deal with this," said Dr. Bahareh Keith, an assistant of pediatrics at the University of Florida College of Medicine, in Gainesville.
Before social media, parents might embarrass their kids by showing old photo albums. Now, the things parents disclose online — the good and not so good — leave a lasting "digital footprint," Keith explained.
These digital footprints are becoming the norm: Studies have shown that 92 percent of 2-year-olds in the United States have an online presence, and about one-third make their first appearance on social media within 24 hours of their birth, the researchers said.
Sometimes, that old, embarrassing picture a parent took turns up as a Facebook "memory." But other times, a child's personal information — such as struggles with behavioral issues — ends up in the public domain, Keith pointed out.
And that, she said, can have psychological repercussions for kids.
On the more sinister side, parents' posts can also inadvertently give information to identity thieves, or even pedophiles.
According to Keith, there has been little research on the issue, probably because it's so new. Her team did a review of the medical and legal literature on the subject, to come up with some guidelines for parents.
For now, she offered some advice on how to post wisely:
Never share pictures of your child in "any state of undress."
Be careful about posts that give your child's precise location.
If you are going online for help with your child's behavioral issues, keep any information-sharing anonymous.
Beyond that, she advised parents to make sure they understand the privacy policies of all the sites they use.
Simply limiting your Facebook posts to "friends" is not enough, Keith said.
If someone else is tagged in a photo, for example, the friends of that person may see it.
The point, according to Keith, is not to scare parents from ever sharing their family photos or doing some online bragging about their kids.
"We're not saying 'don't share,' " she said. "Just share wisely."
That's not only to keep kids safe, but to respect their privacy, according to Keith.
With older kids, she said, always ask if it's OK to post a photo or share a story.
With younger kids, try to think ahead. "Look forward," Keith said. "Ask yourself, at the age of 14, will my child be OK with this? If you're in doubt, don't post it."
Keith was to present her findings Friday at the annual meeting of the American Academy of Pediatrics (AAP), in San Francisco.
It's natural for parents to focus on their kids when they're using social media, said Dr. David Lloyd-Hill, chair of the AAP's Council on Communications and Media.
"If you're a parent," he said, "the most important and exciting things in your life are probably centered on your kids."
But while those posts may be well-meaning, Lloyd-Hill agreed that parents should think before they share and take some sensible precautions.
"Certainly, it's common sense to avoid posting your child's current location," Lloyd-Hill said. "You don't want to tell the world your child is down the street at the park, without you."
He also said, however, that parents should not be unduly alarmed.
"The risk of someone snatching your child off the street is very low," Lloyd-Hill said.
The bigger concern, he said, is children's privacy, and whether the images and information parents share will hurt them in some way — now or years down the road.
"Yes, we need to be monitoring our kids' social media posts," Lloyd-Hill said. "But we also need to look at our own."
Research presented at meetings is considered preliminary until published in a peer-reviewed journal.
More information
The American Academy of Pediatrics has more on kids and social media.
SOURCES: Bahareh Keith, D.O., M.HSc., assistant professor, pediatrics, University of Florida College of Medicine, Gainesville; David Lloyd-Hill, M.D., chairman, American Academy of Pediatrics Council on Communications and Media; Oct. 21, 2016, presentation, American Academy of Pediatrics annual meeting, San Francisco