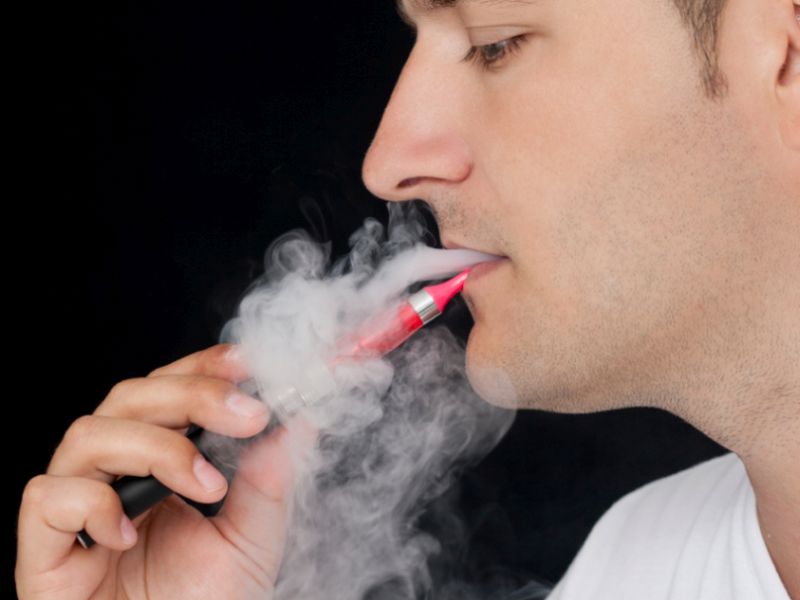 FRIDAY, Oct. 21, 2016 (HealthDay News) — Many Americans don't know that indoor use of electronic cigarettes exposes children to nicotine and leaves nicotine deposits on surfaces, a new survey shows.
"E-cigarettes primarily emit a toxic aerosol, not harmless water vapor," said Robert McMillen, an associate professor of psychology at Mississippi State University, who was the author of the report.
"Unfortunately, many parents are unaware of the risk that exposure poses for their children and do not implement household rules to protect their children," McMillen said in a news release from the American Academy of Pediatrics.
In a survey of more than 3,000 adults in 2015, McMillen and his colleagues found: 68 percent did not allow e-cigarette use in their homes; more than three-quarters banned the battery-operated devices from the car; and over eight in 10 said e-cigarettes should not be allowed in places with smoking bans. About three-quarters also said it was unacceptable for parents to use e-cigarettes in front of children.
However, many adults were not clear about the potential dangers of e-cigarettes, the researchers also found.
Only 37 percent of the respondents knew that exhaled e-cigarette vapor contains nicotine or that using e-cigarettes indoors deposits nicotine on surfaces.
And almost half of the adults did not know that e-cigarette use around children exposes them to nicotine, according to the survey.
Who was less likely to forbid e-cigarette use at home or support restrictions on use of the devices?
Smokers, e-cigarette users, males, 18- to 24-year-olds with lower levels of education, and adults without children in the home, according to the survey.
Smokers, e-cigarette users and less-educated adults were also less likely to believe that e-cigarette use posed risks to children. Older adults and adults with kids in the household were more likely to be uncertain about potential harms.
McMillen said parents need to be educated about the risks that e-cigarette emissions pose to children and the need to ban tobacco use and e-cigarette use from their homes and cars.
The survey results are to be presented Saturday at the American Academy of Pediatrics' annual meeting, in San Francisco. Data and conclusions presented at meetings are usually considered preliminary until published in a peer-reviewed medical journal.
More information
The U.S. National Institute on Drug Abuse has more about e-cigarettes.
— Robert Preidt
SOURCE: American Academy of Pediatrics, news release, Oct. 21, 2016